Guidance duties Dangerous Goods Safety Adviser (DGSA)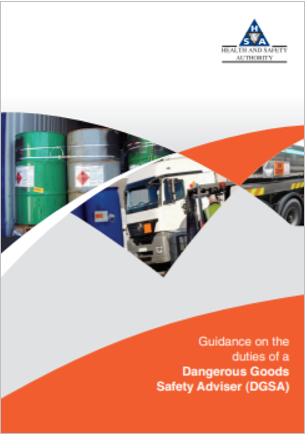 Guidance on the duties of a Dangerous Goods Safety Adviser (DGSA)
This guidance is intended to inform Dangerous Goods Safety Advisers (DGSAs) and those undertakings which need to appoint a DGSA, about the roles and responsibilities of a DGSA. A DGSA has specific duties under the European Agreement Concerning the International Carriage of Dangerous Goods by Road (ADR), which will be detailed in this document. An undertaking may need to appoint a DGSA if it is involved in the following activities: 

- Consigning dangerous goods for transport including, including as appropriate, loading, packing and filling (consignors). 
- Operation of road vehicles carrying dangerous goods, including as appropriate, packing, loading, filling and unloading (carriers).
The ADR specifies the responsibilities of a Safety Adviser in Chapter 1.8.3 The core responsibilities of a Safety Adviser are as follows:
- Advising undertakings on the safe transport of dangerous goods by road. 
- Monitoring the undertakings compliance with dangerous goods regulations. 
- Preparing an annual report about the activities of the undertaking related to the transport dangerous goods. 
- Investigating any accidents or infringements of regulations and preparing reports. 
- Monitoring the provision of training and advice to any staff involved in the transport of dangerous goods. 

The duties of those who accept the appointment of DGSA for an undertaking are mandatory. A DGSA or employer does not have the discretion to "cherry pick" the duties or roles which they must observe and fulfil.
The role of a DGSA is such that fulfilling the responsibilities as detailed in the ADR attracts a legal duty of care for the DGSA. A regulatory body or competent authority in any of the EU or non-EU member states who are signatories to the ADR may require the identity of the DGSA acting for an undertaking. It is your duty as an undertaking involved in the carriage, loading or unloading of dangerous goods, or as an appointed DGSA, to comply in a timely fashion with any lawful request of any such regulatory body.
...
HSA 2015