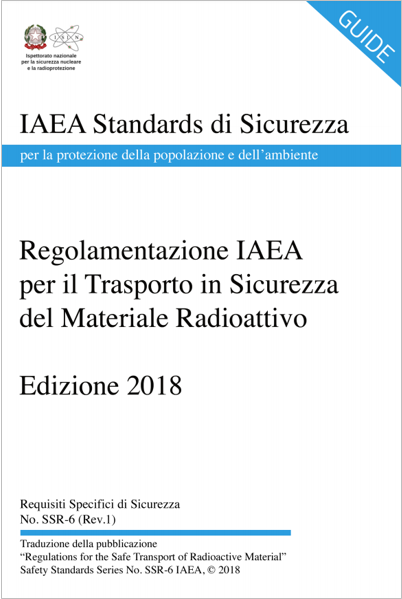 ISIN, 30.04.2021
È stata pubblicata la traduzione in italiano della "Regolamentazione IAEA per il trasporto in sicurezza del materiale radioattivo".
Si tratta dell'ultima versione delle disposizioni della IAEA (l'Agenzia Internazionale per l'Energia Atomica) che vengono periodicamente aggiornate (l'edizione precedente era del 2012) per tenere conto dell'evoluzione tecnica e dell'esperienza operativa maturata nelle attività di trasporto.
La Regolamentazione IAEA viene poi trasposta nei vari regolamenti modali internazionali di trasporto (ADR, RID, ADN, IMDG Code e ICAO TI) che governano, in base ad accordi e convenzioni internazionali, il trasporto delle merci pericolose, comprendenti le materie radioattive.
Il trasporto delle materie radioattive, che costituiscono la Classe 7 delle merci pericolose, deve essere svolto assicurando elevati livelli di sicurezza e di protezione dalle radiazioni ionizzanti. Questo obiettivo è garantito proprio dall'applicazione delle disposizioni e requisiti stabiliti nello standard di sicurezza della IAEA "Regulations for the Safe Transport of Radioactive Material".
La prima traduzione di questo standard IAEA è del 1975.
Proseguendo in questa tradizione, l'ISIN pubblica la versione italiana della vigente Regolamentazione, con lo scopo di mettere a disposizione, delle amministrazioni e degli operatori del settore, uno strumento agile e di immediata consultazione per contribuire ad una migliore conoscenza della normativa.
...
Fonte: ISIN